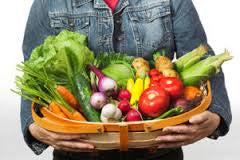 A Healthy Garden Starts Before Planting.
Every gardener runs into common problems during the summer from blight to weeds to pests but few of us are willing to resort to pesticides or herbicides. These healthy garden tips can help minimize and eliminate pests in your garden and protect your plants as they grow.
#1 Start with the soil.
A healthy garden begins with the best soil you can find or create. For brand new gardens, buy the best from a garden center. Don't be tempted to fill up from your community compost pile – these are often filled with weed seeds and worst yet, diseased plants. If you have an established garden, feed it in early spring with a good, rich compost or manure. Rototill this in well and let sit for a week or two before planting so it can settle and warm up.
Do you have blight in your garden? If you've noticed healthy tomato plant leaves suddenly turning brown and shriveling up, you probably have blight in your soil. The spores attach to droplets of water, splash up on the leaves, and eventually defoliate the whole plant. If you've had blight, you must either replace the soil or wait a few years before planting blight-susceptible plants in it. Frustrating I know!
#2 Use mulch (yes, even in your vegetable garden!).
After planting, lay down a thick layer of natural mulch (not treated wood chips). Great choices are hay, untreated grass clippings, or newspaper. These materials will keep weed growth down, help the roots retain water, and by the end of summer decompose to feed the soil.
#3 Pay attention to weeds and water.
We all know how busy life gets and we sometimes let the weeds take over or miss a day of watering. And we know this hurts our plants. But did you know it actually helps the pests and diseases? Big, bountiful, healthy plants (that are well-watered and maintained) actually keep weed growth down and are more resistant to diseases. Struggling plants will give weeds a foothold and attract opportunistic pests. If you find diseased or pest-attacked plants, dispose of them away from your own compost pile and clean your garden tools with a mild bleach solution.
#4 Start with good, quality plants.
Whether you grow from seed or buy from a nursery, choose plants that are suited to your climate and are raised without insecticides (bad for pollinators) or pesticides (bad for people). Always, always harden off your plants before planting and follow a regular feeding schedule during the growing season.
#5 Plant like crazy.
The best way to really stymie the pests is to plant your garden in a haphazard style. Combine multiple and different plants in one row, mix and match herbs and flowers, and create a more free flow style or cottage garden look within your fences. This gives you the advantages of companion planting (more on that here) but also truly confuses rabbits and deer! They will pass by your garden if the beans are hidden within a barrier of marigolds and deer-repelling hot peppers.