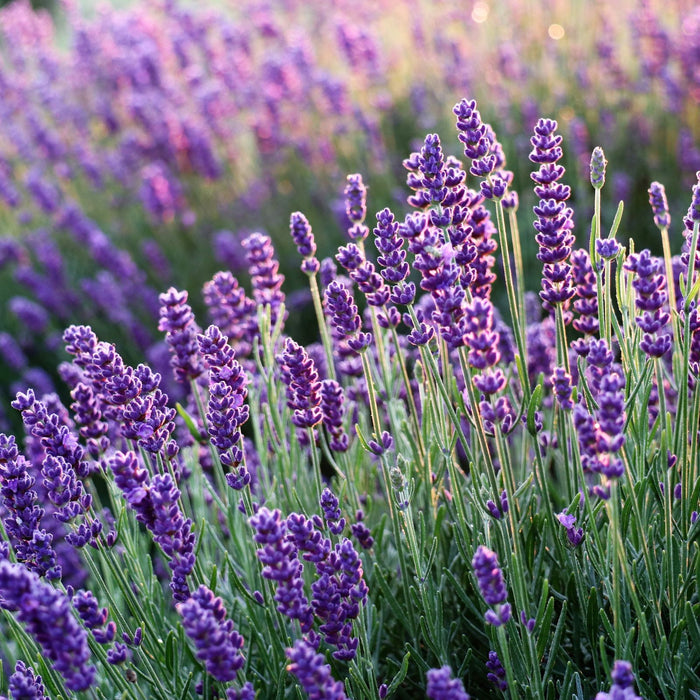 English Lavender (Lavandula) Hidcote Blue | Two Live Herb Plants | Non-GMO, Perennial in Zones 5 to 8, Mosquito Repellent Plant

This true English Lavender (Lavandula) Hidcote Blue is a perennial plant in zones 5 to 8. Known for its compact growth habit, beautiful and fragrant flowers, this lavender plant is a must-have in your garden. Foliage is a lovely grayish-green and the plant only grows to about 18" to 24" high making it a great edging plant.
The scent of lavender, though, is what makes this a gardener's favorite. Perfect in cut arrangements, dried for sachets, and even infused in vinegar or oil, Lavender also is a natural mosquito, deer, and rabbit repellent. It tolerates hot, dry locations and works well in containers as an annual plant. Group multiple plants together for a stunning effect all summer long that will attract pollinators and neighbors!
Clovers Garden English Lavender Hidcote Blue Plants:

Two Large, Live plants – ready to grow, premium herb plants, 4" to 8" tall plants, in 4" pots
Non-GMO, No Neonicotinoids – so you can grow fresh produce that's healthy for your family and pollinators.
10x Root Development – robust plants with healthy roots that handle transplanting better and grow stronger right from the start. Gets you to a faster, more productive harvest.
Grown in the Midwest – all plants are grown in the USA and we manage the entire process from seed to your doorstep.
Fast Shipping and Careful Packaging – your plants arrive quickly in our exclusive, eco-friendly, 100% recyclable box designed to protect your plants and the planet.
Plant in any US Zone – works in containers; small spaces, balconies, patios or large gardens. Perennial in Zones 5 to 8, treat as a tender annual all other Zones.
Container-friendly – herbs do well in pots, planters, and window boxes and their lovely foliage make them a great filler plant with blooming annuals.
Season long harvest – fantastic cutting garden addition, flowers are lovely fresh; dried in arrangements or sachets; or infused in oil or vinegar.
Growing Requirements – requires full sun, average water and fertilization. Tolerates hot and dry conditions and deer and rabbit resistant.
Quick Start Planting Guide – created just for our customers, this copyrighted guide walks you through every gardening step from unboxing to planting.
Third Generation, Family-Owned Small Business -- we've been helping gardeners since 1957 with established greenhouses right here in the Midwest.
100% Satisfaction Guaranteed