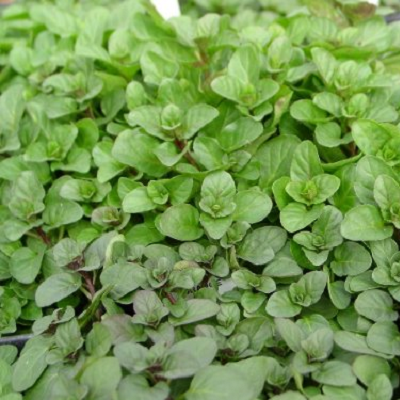 Orange Mint | Two Live Herb Plants | Non-GMO, Great Filler, Perennial to Zone 5
 
Orange Mint is a fragrant, lush, attractive plant ideal for gardens and containers alike. The deep green leaves are tinted with shades of orangey-red, and it has a unique, citrusy aroma and flavor. Like all of the mint plants, Orange Mint is a great filler for bare spots in the garden, with the attractive leaves and beautiful pale purple flowers. High in Vitamin A and C, this delicious mint not only adds zest and zing to drinks and dishes but is a healthy menu choice. Use fresh in salads, desserts, garnishes, added to cold drinks, and or as sauce for lamb and fish. Dried Orange Mint leaves are perfect for potpourris and sachets.
Clovers Garden Orange Mint Plants:
Two Large, Live plants – ready to grow, premium herb plants, 4" to 8" tall plants, in 4" pots
Non-GMO, No Neonicotinoids – so you can grow fresh produce that's healthy for your family and pollinators.
10x Root Development – robust plants with healthy roots that handle transplanting better and grow stronger right from the start. Gets you to a faster, more productive harvest.
Grown in the Midwest – all plants are grown in the USA and we manage the entire process from seed to your doorstep.
Fast, Priority Shipping and Careful Packaging – your plants arrive quickly in our exclusive, eco-friendly, 100% recyclable box designed to protect your plants and the planet.
Plant in any US Zone – works in containers; small spaces, balconies, patios or large gardens. Treat as a tender annual in Zones 9 and colder.
Container-friendly – herbs do well in pots, planters, and window boxes and their lovely foliage make them a great filler plant with blooming annuals.
Season long harvest – most herb plants can be harvested all season, just snip off what you need and the plant will keep growing.
Growing Requirements – requires full sun, average water and fertilization.
Quick Start Planting Guide – created just for our customers, this copyrighted guide walks you through every gardening step from unboxing to planting.
Third Generation, Family-Owned Small Business -- we've been helping gardeners since 1957 with established greenhouses right here in the Midwest.
100% Satisfaction Guaranteed
Plant 12" to 18" apart in a full sun to part-sun location in well-draining soil. This variety of mint is heat- and humidity-tolerant so it can survive by water gardens and in moist parts of the garden. Lushest growth occurs in moist soil in partial shade. It will grow up to 24" tall and needs frequent pruning to contain the plant to a specific area. Perennial in most zones, just cut back in the fall and cover with leaves or straw to overwinter.