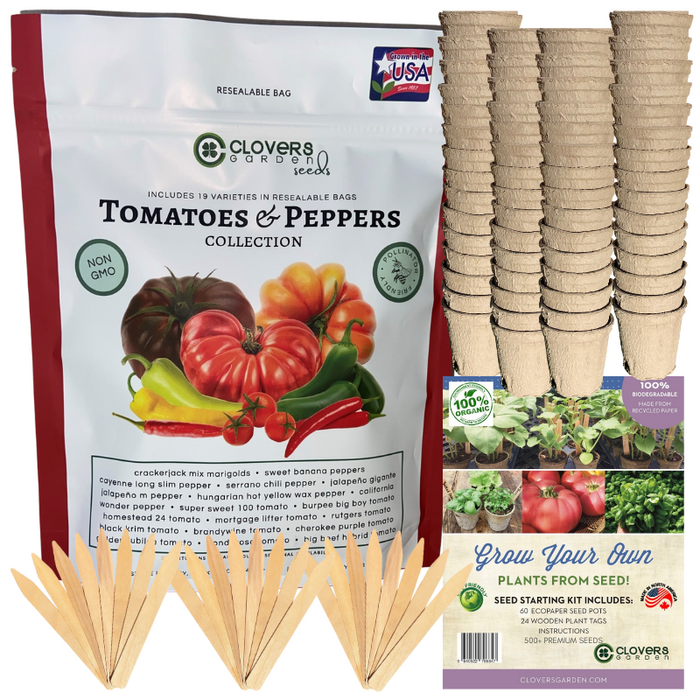 Tomatoes & Peppers Grow Kit | 500 Seeds, 19 Varieties + 60 Organic EcoPaper Seed Pots | Non-GMO, Resealable Bags, Peat-Alternative
Everything you need to grow a saucy, spicy garden!
Tomatoes & Peppers Grow Kit includes 19 different varieties of non-GMO seeds with a mix of classics, heirlooms, and hard-to-find varieties. Plus 60 ecofriendly seed starting pots, made with 100% certified organic North American recycled paper and completely peat- and plastic-free.
This kit is perfect for early starts on in-ground, hydroponic, and container gardens. You'll have plenty to grow, store, and share. These are the seeds we grow for our nursery and greenhouse plants! These seeds were packed in 2021, sealed both in individual bags and in our special seed vault bag designed to protect seeds for seven years. They have been stored in a climate-controlled environment and are 100% guaranteed to germinate. 
Tomatoes & Peppers Grow Kit includes:
500+ Premium Seeds. Guaranteed non-GMO, open pollinated seeds (except for a few hybrid varieties), and tested for germination success. 
Contains 19 varieties including 

Big Beef, Black Krim, Big Boy, Cherokee Purple, Golden Jubilee, Super Sweet 100, Cayenne Long, California Wonder, Serrano, Jalapeño and more. Approximately 25 seeds of each variety.

USA grown and hand-packed. Includes several heirloom seed varieties, suitable for all U.S. Climate Zones.
Resealable, waterproof.  Seeds are in an outer seed vault resealable bag with each variety in its own bag (with instructions). Store for up to 7 years.
Pollinator friendly seeds. Also Includes marigold seeds, a natural deer and rabbit repellent.
60 Organic EcoPot Paper seed pots. 3.5" round, 3.5" height, fits standard 10-count trays (not included). Made from 100% North American recycled paper and completely biodegradable.
24 wooden 6" plant tags. Just mark with a permanent marker, reusable.
Digital Gardening Guide + Seed Pot Quick Start Guide. Includes access to our exclusive Clovers Garden digital Gardening Growing Guide and a printed Seed Starting Guide with everything you need to know to successfully plant your vegetable garden
Clovers Garden 100% Satisfaction Money-Back Guarantee
We've chosen only the finest,100% non-GMO, quality seeds in combinations that include traditional gardener favorites for flavor, yield, and performance. Tested for germination success and always fresh for planting season. Ready to grow on your schedule, suitable for all US Climate zones and perfect for indoor, greenhouse, hydroponic, or direct-to-ground or container planting. 
For three generations, Clovers Garden has served gardeners and we're happy to continue that tradition today with gardening products designed for the home grower. We're gardening right beside you and are here to answer any questions. Get growing today with Clovers!