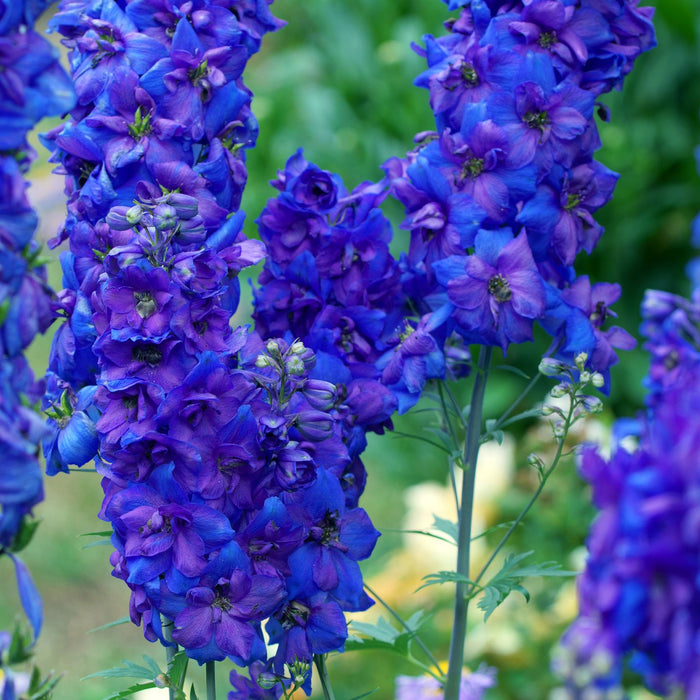 Delphinium Black Knight (Larkspur) | Two Live Perennial Plants | Non-GMO, Large Flower Spikes that Bloom All Summer
This garden stunner is a must-have for cut flowers and pollinators. Delphinium Black Knight (Larkspur) is perennial in zones 3 to 9 and will grow to nearly 6' tall! Each flower spike is packed with dark purple-blue flowers with a light interior (which is a beacon to bees and butterflies).
Prized for its beautiful cut flowers, Delphinium is a classic English Garden flower and will bloom for most of the summer. The large upright stalks make the perfect backdrop for shorter flowering perennials. Combine with other favorites such as Shasta Daisy or Moonbeam Coreopsis.
This plant needs full sun and moist, but well-drained soil with lots of organic matter. Their roots like to be cool so mulching after planting will help them. Delphinium also does not like humidity so space at least 24" apart so they get air flow on muggy days. Plant will benefit from support (such as a fence or flower stakes) as tall flower spikes can be damaged by wind. Deadhead spent flower stalks to encourage more blossoms.
Note: all parts of this plant are toxic to humans and pets.
Clovers Garden Delphinium Black Knight (Larkspur) Plants:

Two Large, Live plants

 – ready to grow, premium flowering perennial plants, 4" to 8" tall plants, in 4" pots.

Non-GMO, No Neonicotinoids

 – plants are raised without these chemicals to protect pollinators.

10x Root Development 

– robust plants with healthy roots that handle transplanting better and grow stronger right from the start.

Grown in the Midwest

 – all plants are grown in the USA and we manage the entire process from seed to your doorstep.

Pollinator Favorite – bees and butterflies will flock to these lovely blossoms and help pollinate your veggies and fruit trees.
Fast Shipping and Careful Packaging

 – your plants arrive quickly in our exclusive, eco-friendly, 100% recyclable box designed to protect your plants and the planet.

Perennial in Zones 3 through 9 – with proper care, plants will come back year after year and get bigger, fuller, and more spread out with each season. This is a true legacy garden plant!

Season long harvest – have fresh cut bouquets all summer, the more you cut, the more these plants will blossoms.

Growing Requirements – requires full sun, average water and fertilization.

Quick Start Planting Guide

 – created just for our customers, this copyrighted guide walks you through every gardening step from unboxing to planting.

Third Generation, Family-Owned Small Business 

– we've been helping gardeners since 1957 with established greenhouses right here in the Midwest.

100% Satisfaction Guaranteed