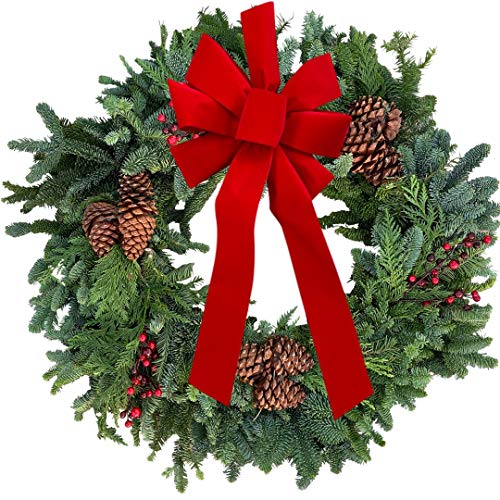 Live Fresh 30" Noble Fir Christmas Wreath | Cedar Boughs, Pinecones, Red Berries, Large Bow | Handcrafted, Free Shipping
Fill your home with festive holiday cheer and lovely evergreen fragrance! This gorgeous, lush fresh cut Christmas wreath looks fabulous indoors on windows or on the mantle or hanging outside on your doors. Makes a lovely gift and will last for the entire Christmas season. FREE and fast shipping through UPS. Order soon, supplies are limited.
Live, fresh 30" pine wreath. Traditional design, handcrafted, beautifully accented with cedar boughs, Ponderosa pinecones, faux red berries, and bright red bow. 
Natural Evergreen materials, harvested in Pacific Northwest. Grown and cut using sustainable methods.
Made to order for maximum freshness.
Fast & Free UPS delivery.
Will stay fresh up to 3 weeks indoors and 4 to 6 weeks outdoors
Weighs approximately 7 pounds.