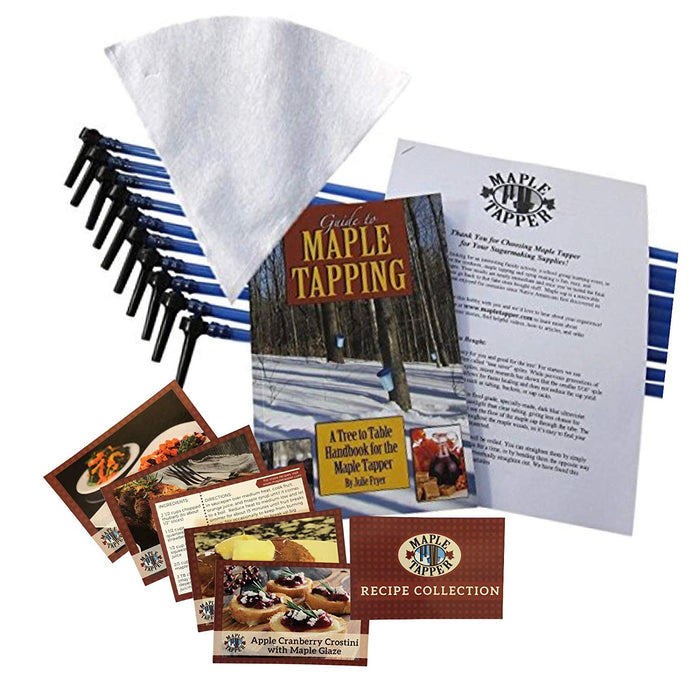 Maple Syrup Tree Tapping Kit – (10) Taps + (10) 3-Foot Drop Line Tubes + 1-Quart Sap Filter – Dark Blue Premium Food Grade Tubing - Recipe Cards, and 80 Page Illustrated Guide to Maple Tapping Book
Would you like to start your gardening season early, learn a new hobby, and have fresh, pure maple syrup for the entire year? Tapping trees and making your own all-natural, pure maple syrup is much easier than you think and we'll show you how!
   Our sister company, Maple Tapper (click here to visit), has everything you need to get started plus a fabulous how-to library. The season starts in early February but if you'd like to be prepared, you can order our Starter Kit right here! 

This handy kit:
MADE IN NORTH AMERICA. Kit includes (10) 3 foot premium dark blue FDA APPROVED drop lines; (10) 5/16" maple tree tapping spiles; One-quart syrup filter; Instructions; Recipe cards; 80 Page Illustrated Guide to Maple Tapping Book

DARK BLUE TAPPING TUBES have natural anti-bacterial properties. Inhibits bacterial growth by blocking the sun's rays from entering the drop lines. BPA FREE, FDA APPROVED

LIFETIME GUARANTEE ON TAPS AND TUBING. Heavy duty food grade maple sugaring tubes and reusable taps. Reusable syrup filter is made especially for sap filtering

80 PAGE GUIDE TO MAPLE TAPPING BOOK shows you how to identify the right trees, how to get started tapping, delicious recipes and advice from professional sugarmakers

FOR BEGINNERS OR EXPERIENCED MAPLE TAPPERS. Our 5/16" tree saver taps cause 30-35% less damage trees compared to traditional 7/16" spiles but with the same output. 100% SATISFACTION GUARANTEE