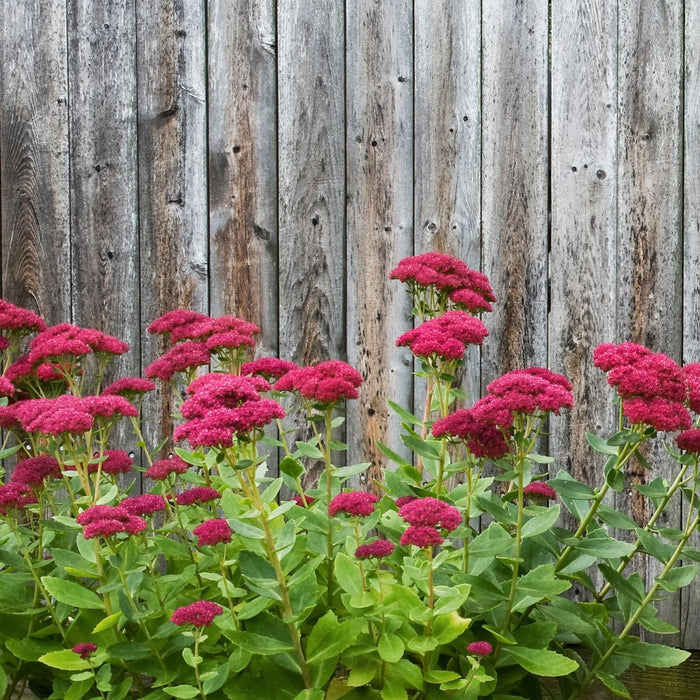 Sedum Autumn Fire | Two Live Perennial Plants | Non-GMO, Fall Flowers, Sturdy Stems, Butterfly Favorite, Rabbit Resistant
A classic fall garden favorite, Sedum Autumn Fire has stunning, large brick red flowers on sturdy stems. Also called Stonecrop, Sedum is a hardy plant perennial in Zones 3 to 9. The perfect addition to flower gardens, this plant blooms in fall as other flowers begin to fade. No trimming needed, the dried stems and flowers also make an interesting addition to the winter garden.
Pollinators love this plant, too, and many rely on it for fall food when other sources start to wane. Sedum prefer full sun but will tolerate partial shade and most types of soil as long as they have good drainage. Similar to a succulent, they do not need a lot of water. Plant will grow to about 24" tall and 15" wide. Don't worry if you don't see these popping through right away in spring! They are slow spring starters but will fill in nicely once it warms up. A good choice for sloping sites and even do well in containers (roots must be protected for winter). This plant is also deer- and rabbit-resistant!
Clovers Garden Sedum Autumn Fire Plants:

Two Large, Live plants

 – ready to grow, premium flowering perennial plants, 4" to 8" tall plants, in 4" pots.

Non-GMO, No Neonicotinoids

 – plants are raised without these chemicals to protect pollinators.

10x Root Development 

– robust plants with healthy roots that handle transplanting better and grow stronger right from the start.

Grown in the Midwest

 – all plants are grown in the USA and we manage the entire process from seed to your doorstep.

Pollinator Favorite

– a great food source for butterflies and bees in the fall when other flowers have faded.

Fast Shipping and Careful Packaging

 – your plants arrive quickly in our exclusive, eco-friendly, 100% recyclable box designed to protect your plants and the planet.

Perennial in Zones 3 through 9

– with proper care, plants will come back year after year and get bigger, fuller, and more spread out with each season. This is a true legacy garden plant!

Fall Flower Must Have 

– gorgeous in fall arrangements or dried for wreathes. Leave the stalks and blossoms standing for interesting winter structure

Growing Requirements 

– requires full sun, average water and fertilization.

Quick Start Planting Guide

 – created just for our customers, this copyrighted guide walks you through every gardening step from unboxing to planting.

Third Generation, Family-Owned Small Business 

– we've been helping gardeners since 1957 with established greenhouses right here in the Midwest.

100% Satisfaction Guaranteed