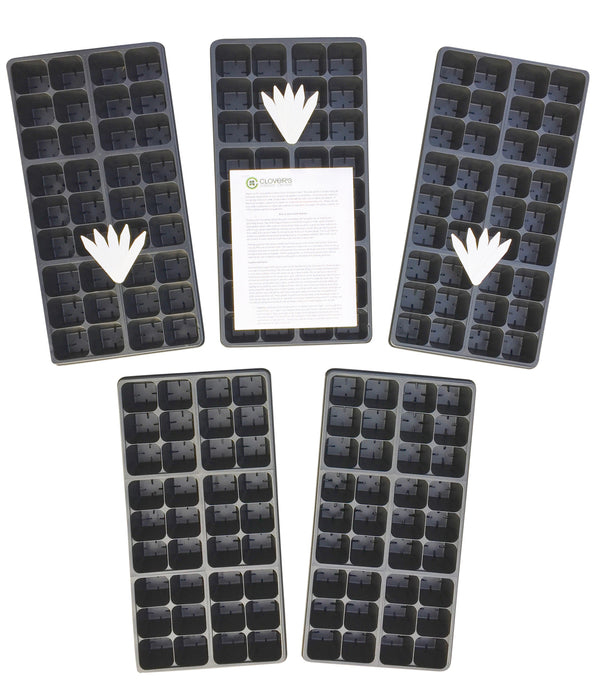 Seed Starting Kit -- Grow 180 Seedlings!
Starting your own plants indoors is a great way to extend your gardening season and you'll have the ability to grow a wide variety of plants. Most garden centers offer a narrow selection but when you grow your plants from seed, you're able to seek out new and different varieties, choose heirloom varieties that can only be grown from seed, and even save seeds from year to year from your favorite plants. You're also able to control your garden timing better and aren't tied to buying from a garden center and hoping for good planting weather when you get home. Best of all, you'll save money because seeds are much less expensive than young plants. Seed Starting Kits are proudly made in the USA.
100% Satisfaction Guaranteed!
What you'll get with your order:
Brand new, top quality, extremely sturdy, Made in the USA, pots, trays, and plant labels. Usable for multiple seasons if properly cared for.

Perfect, seedling size! 180 rectangular, six-pack growing cells (6-06 style). Made from black plastic with drain holes on the bottom. Individual cell diameter width: 1 ¼"; length 2"; height 2¼".

Five black plastic growing trays with drain holes on the bottom. Each holds 36 six-pack growing cells and is specifically designed to hold these style of planting cells. Protects your tender seedlings from tipping over! Tray is 10 7/8" wide by 21 ¼" long

15 white plastic plant tags, each 4" long

Every order includes our exclusive instruction booklet with helpful hints on starting seeds at home