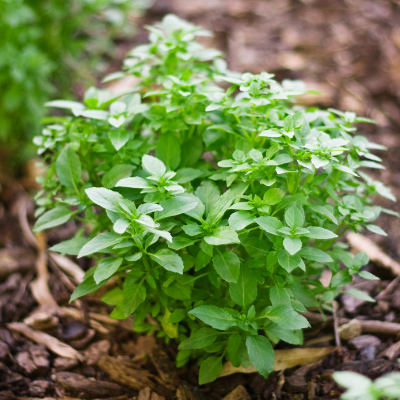 Spicy Globe Basil | Two Live Herb Plants | Non-GMO, Bushy Growth, Greek-Style Basil


Spicy Globe Basil is a bush basil that grows in a low, wide, compact mound. Also called Greek Basil, this popular European variety is loved for its size, flavor, and tender stems. Great for any garden, but especially for small spaces and containers. This plant is a real time saver because the leaves are tiny and stems are tender so less time pruning and chopping. Because of its compact, round shape, it's also used as a garden border or edging making it an ornamental herb plant.
Clovers Garden spicy Globe Basil Plants:
Two Large, Live plants – ready to grow, premium herb plants, 4" to 8" tall plants, in 4" pots
Non-GMO, No Neonicotinoids – so you can grow fresh produce that's healthy for your family and pollinators.
10x Root Development – robust plants with healthy roots that handle transplanting better and grow stronger right from the start. Gets you to a faster, more productive harvest.
Grown in the Midwest – all plants are grown in the USA and we manage the entire process from seed to your doorstep.
Fast, Priority Shipping and Careful Packaging – your plants arrive quickly in our exclusive, eco-friendly, 100% recyclable box designed to protect your plants and the planet.
Plant in any US Zone – works in containers; small spaces, balconies, patios or large gardens. Treat as a tender annual in Zones 9 and colder.
Container-friendly – herbs do well in pots, planters, and window boxes and their lovely foliage make them a great filler plant with blooming annuals.
Season long harvest – most herb plants can be harvested all season, just snip off what you need and the plant will keep growing.
Growing Requirements – requires full sun, average water and fertilization.
Quick Start Planting Guide – created just for our customers, this copyrighted guide walks you through every gardening step from unboxing to planting.
Third Generation, Family-Owned Small Business -- we've been helping gardeners since 1957 with established greenhouses right here in the Midwest.
100% Satisfaction Guaranteed
Plant 12" to 18" inches apart in a full to part sun location in rich, well-draining soil. These plants require regular watering to thrive and grow. As with all other basil types, remove the flower spikes daily to encourage more leaf production. Once the plants have flowered, the leaves will not be as aromatic or tasty.