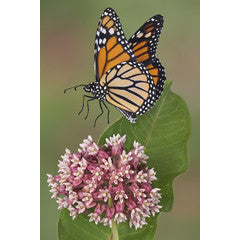 America's Favorite Butterfly: The Monarch
Monarchs are the only butterfly known to make a two-way migration. Most other butterflies are able to overwinter as larvae or pupae but Monarchs cannot survive the cold. Relying on environmental changes, they know when it's time to head South and will travel between 50 and 100 miles per day, taking up to two months to reach their winter home in Mexico or Southern California. They start returning to the Southern U.S. in late February, making pit stops along the way to refuel and reproduce. Over the course of the summer and their travels, they will produce four generations of Monarchs, each one travelling further North. The fourth generation does not reproduce the first year and are the ones who travel to overwinter and restart the cycle in the Spring.
During the summer breeding season, the life cycle of a Monarch lasts for two to five weeks and goes from an amazing transformation from a tiny egg to a gorgeous butterfly. Because caterpillars are so easy to find, raising them "by hand" is very easily done in a large fish tank as long as you can feed them fresh milkweed every day.
Do You Want to Learn More?
The good news with this story is that the U.S. government and educational institutions are taking the declining Monarch population seriously and are actively working to help. From offering Monarch habitat ideas to creating school projects for teaching kids, start your search at these fantastic resources to learn more.
National Park Service Monarchs and Milkweed Video (click here)
Monarch Joint Venture (click here)
A large conglomeration of federal and state agencies, prominent Universities, and private nonprofits, you'll find a wealth of information here as well as links to other sites for active learning and registration as Monarch Waystation.
This United States Department of Agriculture Forest Service website has detailed Monarch information in addition to general pollinator gardening tips and a thorough list of additional resources for adults and kids.
Another great resource with some really beautiful videos, this United States Fish & Wildlife Service website connects you with other organizations and detailed plans on how you can help the butterflies. If you'd like to watch a video about saving the Monarchs at Yosemite, click here (https://www.youtube.com/watch?v=V3jpu2th34o).
Changing the World, One Yard at a Time.
While there is disagreement about many environmental issues these days, everyone agrees that the plight of the Monarch is a reflection on the health of our North American landscape and its pollinators. The same stressors causing harm to Monarch habitat also affect plants, animals, and critical food pollinators such as honeybees. By doing your part with just a few Milkweed plants, this valuable resource can be reshaped one yard at a time! If you'd like to learn more about planting Milkweed in your garden, click over to our blog posts "How to Grow Milkweed."
And get them from our store.