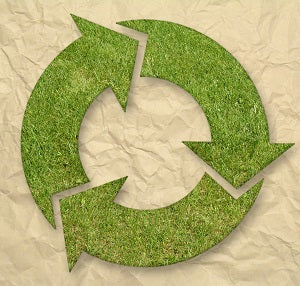 Bring Your Harvest Full Circle
 Not all seed starter pots are created equal! Some like plastic or peat are hard on the environment while others are not so great for the seedlings. Luckily innovators have come up with a great alternative that's friendly to the planet and tender seedlings.
Peat Pots are not Eco-Friendly.
   Peat pots are made from material dug out of peat bogs. This harvest destroys these important wetland ecosystems which purify water; mitigate flooding and erosion; and function as the Earth's most efficient carbon sink. Peat bogs also house rare wildlife species and native plants and, because of their highly acidic nature, provide an irreplaceable ecological record dating back 10,000 years.
Scientists consider peatlands to be as important to our planet's health as rainforests and their harvest releases Co2 into the environment contributing to increased global warming. 
EcoPaper Pots are Better for the Planet.
Made from 100% North American recycled paper, EcoPaper Pots a much more environmentally-friendly and sustainable alternative to peat or plastic.
They're 100% biodegradable and, like mulch, naturally break down after transplanting helping to build the quality of garden soil.
Nothing is destroyed in the manufacturing process but instead these seedling pots become part of the recycling process, reusing materials already in the system.
Also Better for the Seedling.
EcoPaper pots are naturally permeable and porous so roots can breathe; water can soak through; and pots will not become moldy or soggy like peat or plastic pots. They naturally decompose so there is no need to remove the plant from the pot when transplanting. This means less stress on the tender root system giving each plant a great head start to becoming a strong, fruitful producer.
Starting Seeds is Better for your Garden.
Starting plants from seed gives you total control over the entire process. You choose: the seed attributes (heirloom, organic, saved from last season): the inputs (organic soil and fertilizer choices): and exact planting time for your conditions. Homegrown plants have no exposure to nursery pests or diseases so all of your garden plants are protected.
The birds, bees, and insects who visit your garden are also protected because you can choose native species (rarely found at big nurseries) and eliminates pesticides, herbicides, and the especially deadly neonicotinoids from the beginning.
Ready to start growing? Browse our seed starting pots here.
Would you like to learn more about starting seeds at home? Click here for access to our Garden Guide library.