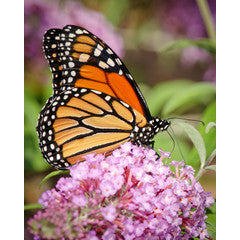 How to Attract Butterflies to Your Garden
If it flowers, butterflies of all stripes will be happy to visit your gardens but did you know there is one plant that Monarchs cannot live without? Common Milkweed is a necessity for Monarch caterpillars. While Monarch butterflies will feed on many different flowering plants, they only lays eggs on Milkweed because it is the ONLY plant the caterpillar eats until it goes into the chrysalis. In fact, the chemical compounds in this plant protect the caterpillars from getting eaten! Milkweed contains a cardiac poison that caterpillars are immune to but makes them taste bad – and become poisonous – to predators. Over time predators have come to see the unique coloration of the Monarch caterpillar as a warning and leave it alone!
During summer and with enough habitat along the way, four generations of Monarchs will emerge, each one flying further North. But without Milkweed corridors, Monarchs must fly greater distances before laying eggs and consequently reproduce less and less over each summer. Herbicidal control and increased agricultural land use has eliminated much of the U.S. milkweed, creating a critical turning point in the Monarch population. So much so that the U.S. Fish & Wildlife Service is considering including the Monarch Butterfly on its Endangered Species List. 
From the United States Fish & Wildlife Service:
North American monarch butterflies are in trouble. Threats, including loss of milkweed habitat needed to lay their eggs and for their caterpillars to eat, are having a devastating impact on their populations and the migration phenomenon. Unless we act now to help the Monarch, this amazing animal could disappear in our lifetime.
We can save the Monarch, but it will take a concerted national effort.
Every backyard can become an oasis for monarchs and other pollinators—even in cities. Schools, youth and community groups, businesses, and state and local governments can engage in planting native milkweed and protecting monarch habitat along roadsides, rights of way, and other public and private lands. By enlisting a broad group of partners, from schoolchildren to CEOs, we will build a connected conservation constituency.
How You Can Help the Monarchs
There are many simple steps you can take to support the Monarchs in their annual migration and still grow a beautiful garden:
For starters, keep a pollinator-friendly, herbicide-, insecticide-, and pesticide-free garden. Monarchs need lots of nectar to fuel their journey and a wide selection of flowering plants will attract them to your landscape.

Plant native Milkweed plants. Milkweed has many, many varieties and it's important to choose a species native to your region. Choosing a non-native species may encourage Monarchs to lay eggs too late in the season or even veer off their migration path. Here's a great link to check what varieties work in your area.
Choose non-herbicide treated Milkweed plants. Many nursery-raised plants of all kinds are treated with "systemic insecticides" (neonicotinoids) which are toxic to invertebrates feeding on the nectar, pollen, or leaves. Plants treated with these chemicals will kill Monarch caterpillars! Be sure to ask your garden center before purchase (FYI: Clovers plants are NOT treated with any chemicals.)

Spread the word and encourage landowners and neighbors to let Milkweed grow! This pretty plant is worth a shot especially if it helps rebuild the Monarch population.
Give this interesting plant a try . . . you'll help this regal butterfly and attract all kinds of beneficial pollinators to your garden. Click over to "How to Grow Milkweed" for info on planting instructions and a few design ideas for including it in your landscape.