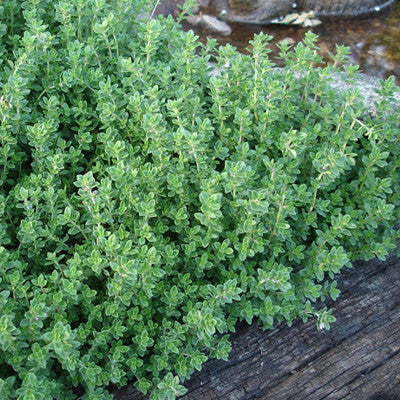 Creeping Lemon Thyme | Two Live Herb Plants | Non-GMO, Mosquito Repellent, Edible


Creeping Lemon Thyme naturally keeps mosquitos away from all your outdoor spaces and is chemical-free solution for anyone concerned about mosquitos in their yard, around family or pets. These plants naturally repel mosquitoes, no-see-ums, and other flying insects, without DEET, chemicals, pesticides, or sticky, smelly bug spray. And are a delicious edible herb you can use all summer long!

Clovers Garden Creeping Lemon Thyme Plants:
Two Large, Live plants – ready to grow, premium herb plants, 4" to 8" tall plants, in 4" pots
Non-GMO, No Neonicotinoids – so you can grow fresh produce that's healthy for your family and pollinators.
10x Root Development – robust plants with healthy roots that handle transplanting better and grow stronger right from the start. Gets you to a faster, more productive harvest.
Container-friendly -- grows well in dry, sunny locations and will spread rapidly. A hardy grower and  great option for the "spiller" portion of deck planters or window boxes.
Grown in the Midwest – all plants are grown in the USA and we manage the entire process from seed to your doorstep.
Fast, Priority Shipping and Careful Packaging – your plants arrive quickly in our exclusive, eco-friendly, 100% recyclable box designed to protect your plants and the planet.
Plant in any US Zone – works in containers; small spaces, balconies, patios or large gardens. Treat as a tender annual in Zones 9 and colder.
Season long harvest – most herb plants can be harvested all season, just snip off what you need and the plant will keep growing.
Growing Requirements – requires full sun, average water and fertilization.
Quick Start Planting Guide – created just for our customers, this copyrighted guide walks you through every gardening step from unboxing to planting.
100% Satisfaction Guaranteed
Creeping Lemon Thyme 
(Thymus Citriodorus)
is one of the most popular herbs for kitchen gardens. Easy to grow inside all year long, use as a delicious herb in soups, salad dressings, tea, stews, roasted meats and chicken or marinades. A natural mosquito repellant for your yard, patio, pool area, front porch, or driveway.