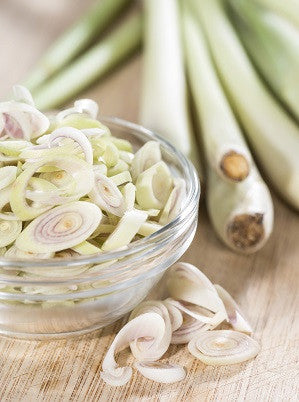 Cooking with Lemongrass
Thai Chicken Lettuce Cups
Recipe created by Chef Katie Chine and served at the 2013 White House Easter Egg Roll.
Ingredients:
2 TB olive oil.
2 tsp. peeled, minced fresh ginger
1 clove garlic, minced
1 TB lemongrass, finely minced
½ lb. ground chicken
¼ cup mushrooms, finely chopped
¼ cup water chestnuts, rinsed, drained, and finely chopped
2 TB fresh cilantro (chop 1 TB finely, reserve remaining leaves for garnish)
1 TB green onion, finely chopped
1 TB fish sauce
Season with salt and pepper to taste
8 large butter lettuce leaves
Directions:
Heat oil in skillet and add ginger, garlic, and lemongrass. Stir-fry about 30 seconds until fragrant. Add chicken and stir-fry for another 4 minutes. Add water chestnuts and mushrooms and stir-fry for 2 more minutes. Stir in cilantro, green onion, and fish sauce and heat through. Season and let cool. Scoop into lettuce leaves and garnish with sprig of cilantro.