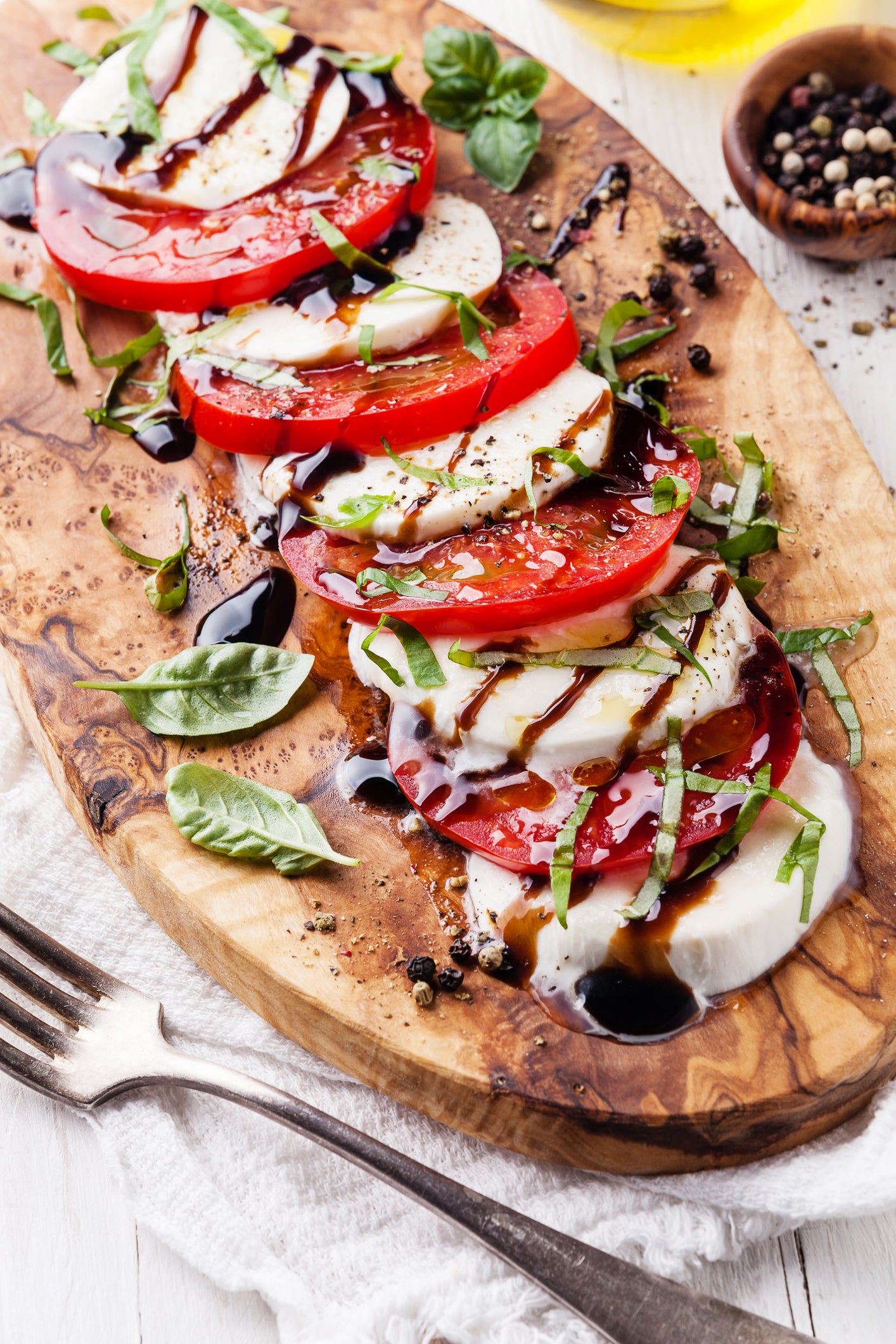 Caprese Salad (Insalata Caprese)
Everyone has a version of this and we offer this up with complete deference to all the Italian Grandmothers out there who make it slightly differently (with uncut leaves; with a balsamic reduction; without balsamic at all; with only Romas; etc.). All I know is my kids gobble this up and ask for more so that works for me. And here's a chef's bonus: you barely need to measure anything; it's easy to adjust to taste; you can make it fancy for presentation (like shown here); or skewer small cherry tomatoes, mozzarella balls, and whole basil leaves for a fun appetizer; or just chunk everything up and serve in a large bowl (which is delish on thick slices of French bread and under the broiler for a couple minutes). Enjoy!
Ingredients:
Lots of fresh tomatoes (any variety or a combo of what's ripe). Thickly sliced or chunked up.
Fresh mozzarella (ONLY fresh mozzarella!!). Plan on about 4 ounces per large tomato. Thickly sliced or chunked up.
Big bunches of basil. Plan on about ¼ cup chopped per large tomato (but you can never have too much basil!). Roughly chop but save a few whole leaves for garnish.
¼ cup extra virgin olive oil
¼ cup plus a little extra balsamic vinegar
Sea salt
Directions:
Alternately layer slices of tomatoes and mozzarella (or combine chunks in a large bowl). Whisk olive oil, balsamic vinegar, and salt until combined and drizzle over tomatoes and cheese. Sprinkle with chopped basil and garnish with whole leaves. Let sit for about 15 to 30 minutes – do not refrigerate!! Serve with thick slices of bread and watch it disappear.
Interested in growing different varieties of Basil? This article tells you more . . . click here to read.