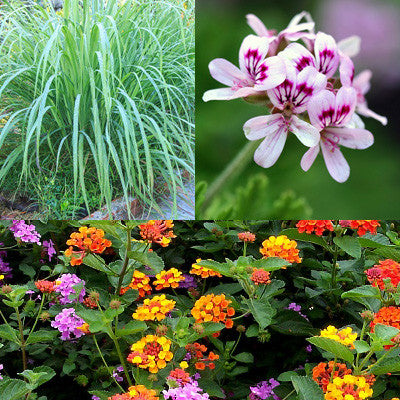 The Mosquito Trio | 9 Live Mosquito Repelling Plants | Geranium, Lemongrass, Lantana, Non-GMO
This lovely collection of nine mosquito repelling plants will fill your outside living spaces with beautiful blooms, interesting foliage and a gorgeous lemony scent that drives the mosquitoes away! Perfect in containers, hanging baskets, around your foundation, and just about anywhere you grow flowers. Plant around play areas, patios, doorsteps, and wherever else you fight mosquitoes. Rustle the leaves when you walk by or grab a handful of leaves and crush to release a burst of citronella scent.

What you get with Clovers' Mosquito Trio, Nine Plant Collection:
Three Lemongrass Plants. This popular ornamental grass repels mosquitoes, deer, and snakes!  Also known as Mosquito Grass, barbed wire grass, silky heads, citronella grass, fever grass, tanglad, hierba Luisa, or gavati chaha, it has a delicate lemon-scent and flavor and is a key ingredient in Thai and Vietnamese cuisine. As with chives, it can be harvested throughout the growing season.
Three Mosquito Plants (Citronella Geranium). This lovely geranium has thick, lush foliage and can get up to four feet around! During the season will occasionally produce pretty pink flowers. Leaves are edible and great for making tea.
Three Lantana Plants. Super colorful, season long blooms on dark green foliage, Lantana is loved by butterflies and thrives in hot and dry conditions. (Note: seeds are poisonous so please remove after blossoms fade.)
Non-GMO, No Neonicotinoids – so you can grow fresh produce that's healthy for your family and pollinators.
10x Root Development – robust plants with healthy roots that handle transplanting better and grow stronger right from the start. Gets you to a faster, more productive harvest.
Grown in the Midwest – all plants are grown in the USA and we manage the entire process from seed to your doorstep.
Fast, Priority Shipping and Careful Packaging – your plants arrive quickly in our exclusive, eco-friendly, 100% recyclable box designed to protect your plants and the planet.
Plant in any US Zone – works in containers; small spaces, balconies, patios or large gardens. Treat as a tender annual in Zones 9 and colder.
Season long protection – plants only get fuller and more beautiful as the summer goes on..
Growing Requirements – requires full sun, average water and fertilization.
Quick Start Planting Guide – created just for our customers, this copyrighted guide walks you through every gardening step from unboxing to planting.
Third Generation, Family-Owned Small Business -- we've been helping gardeners since 1957 with established greenhouses right here in the Midwest.
100% Satisfaction Guaranteed